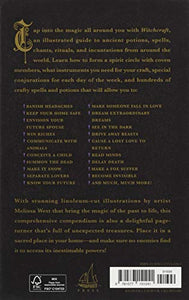 Witchcraft: A Handbook of Magic Spells and Potions
Wellfleet Press
Witchcraft: A Handbook of Magic Spells and Potions (Mystical Handbook)
Author: Greywolf, Anastasia
Brand: Wellfleet Press
Features:
A must-have volume for any occultist's library.
Binding: Hardcover
Number Of Pages: 246
Publisher: Wellfleet Press
Release Date: 15-05-2016
Details: Product Description Tap into the magic all around you with Witchcraft, an illustrated guide to ancient potions, spells, chants, rituals, and incantations from around the world. Learn how to form a spirit circle with coven members, what instruments you need for your craft, special conjurations for each day of the week, and hundreds of crafty spells and potions that will allow you to: Banish headaches Keep your home safe Envision your future spouse Win riches Communicate with animals Conceive a child Summon the dead Make it snow Separate lovers Know your future And more! Spells are conveniently organized by purpose: safekeeping spells, healing spells and potions, spells against enemies, counter-spells, luck and fortune spells, love and matchmaking spells, weather and earth spells, spells to cast on animals, power spells, and communing with the dead. With stunning linoleum-cut illustrations by artist Melissa West that bring the magic of the past to life, this comprehensive compendium is also a delightful page-turner that's full of unexpected treasures. Place it in a sacred place in your home—and make sure no enemies find it to access its inestimable powers! About the Author Anastasia Greywolf is a practicing witch and herbalist with many decades (some say centuries) of experience in casting and conjuring. She lives in the Northeastern United States where she is a founding member of the Coven of the Moonbeam Ravine. Melissa West is a painter and printmaker whose work explores the magical place where comfort and menace meet. She lives in Santa Cruz, California, and has exhibited in many galleries in the area as well as being featured in Pilgrimage magazine. You can see more of her artwork at MSWest.com.
EAN: 9781577151241
Package Dimensions: 8.3 x 5.7 x 0.9 inches
Languages: English