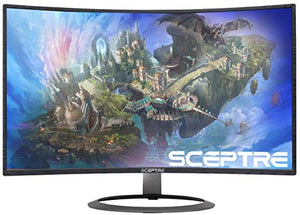 Sceptre Curved Gaming 32" 1080p LED Monitor up to 185Hz 165Hz 144Hz 1920x1080 AMD FreeSync HDMI DisplayPort Build-in Speakers, Machine Black 2020 (C326B-185RD)
Sceptre
Brand: Sceptre
Color: Machine Black
Features:
Up to 185Hz 165Hz 144Hz Refresh Rate Performing at more than three times the speed of the standard refresh rate, 185Hz gives gamers an edge in visibility as frames transition instantly, leaving behind no blurred images
AMD FreeSync With FreeSync, gamers now enjoy smooth video and seamless on the spot movement through their fast paced games. FreeSync is an AMD technology that nearly eliminates tearing and stuttering due to differences between a graphics card's frame rate and a monitor's refresh rate.
Built-in Speakers With built-in speakers, the monitor delivers office level audio for conference calls and internet workshops. Similarly, enjoy engaging audio while listening to your favorite tunes.
Blue Light Shift Reduce your monitors blue light to protect you from eye fatigue, irritation and strains. This enables you to work on your documents, watch movies, or play games more comfortably for extended periods.
FPS-RTS FPS and RTS are Sceptre's custom set display settings built for an enhanced gaming experience. FPS (First Person Shooter), RTS (Real-Time Strategy).
Multiple Ports HDMI 3 and 2 perform at up to an impressive 144Hz refresh rate, HDMI 1 provides up to an incredible 165Hz, and the DisplayPort delivers up to a stellar 185Hz, providing you with the superior visiblity and agility to dominate the competition during all of your gaming exploits.
Anti-Flicker Provides a crisper picture by preventing the backlight from flickering periodically.
Tiltable Display A display that tilts 15° backward and 5° forward allows you to find a sweet spot that bridges clarity and comfort.
VESA Wall Mountable The VESA wall mount pattern gives you the freedom to select the optimum viewing position for your monitor, eliminate cable clutter, and save valuable space for your gaming and work station.
30+ Years of Experience Founded in the City of Industry, California over 30 years ago, Sceptre Inc. made a promise to create and deliver superior products for remarkably affordable prices, a rare tradition that has continued to this day.
Binding: Personal Computers
Release Date: 01-05-2020
Details: 32" Curved LED Gaming Monitor 1920 x 1080 Full HD Resolution Up to 185Hz 165Hz 144Hz Refresh Rate AMD FreeSync Premium Compatible 3 x HDMI and 1 x DisplayPort
Package Dimensions: 30.8 x 20.2 x 5.7 inches