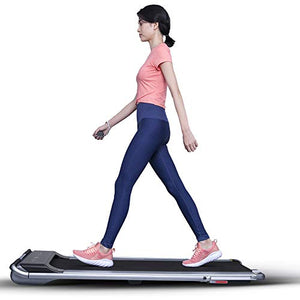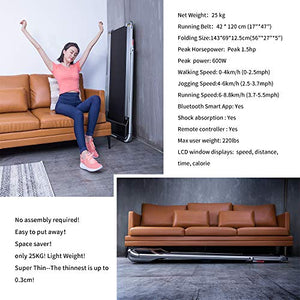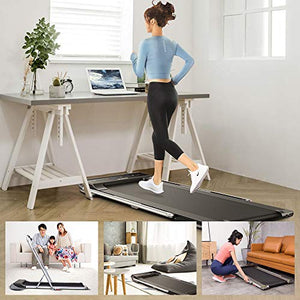 RHYTHM FUN Treadmill Under Desk Treadmill 2-in-1 Folding Running Walking Treadmill with Foldable Handtrail and Speed Sensor Light Slim Mini Quiet Treadmill with Smart Remote Workout App forHome/Office
RHYTHM FUN
Brand: RHYTHM FUN
Color: Silver
Features:
🌼1.Special & Distinctive Feature---Smart Speed Sensor Light. Different from all the mini treadmill on Amazon,RHYTHM FUN new slim folding under desk treadmill has unique feature--Smart Speed Sensor Light,making your sports much more safe! Meanwhile,different speed changing brings different Visual Shock,making your running or walking much more exciting & cool!What also hesitates? Just try this Super shine treadmill!
🌼2.Super Slim Running Platfrom to 3cm---Coin Treadmill.Why? the new treadmill running platform thinnest is to only 3cm=1.18", just as the coin's thickness. 66lb light weight, only covering less 0.12m³small space in your living room or office. Compact , foldable, and wheels under the treadmill make it easier to put away after use. Lightweight ,portable, and very low & slim profile , making it easy to stored in a closet, under a bed, sofa, or a standing desk.Work & walk simultaneously.
🌼3.2-in-1 Fitness models treadmill :---Walking & Running treadmill. This new type RHYTHM FUN treadmill also can be used 2 ways.when treadmill handrail folded, it becomes to under desk treadmill or standing desk treadmill, you can walk while you work with the speed max to 3.7mph=6km/h. when handrail rised,you can running as normally with speed max to 5.5mph=8.8km/h.Ideal for office walking and home running in USA families.
🌼4.Ultra Clear&Large LED display, Smart Remote,Smart Workout APP----RHYTHM FUN folding walking pad treadmill has the very modern looking with large, clear, and simple display. Smart Remote can control your treadmill remotely when you walking or running with Start , Off & Speed button. Special made Smart Workout APP can control the speed,time, mileage and calories, monitor and track your workout on your phone ,or set up the training program at the same time.
🌼5.Shock absorption & noise reduction design:---Strong 1.5hp electric motorized DC power motor,silicon structure honeycomb running board ,7-level soft large running belt,durable steel frame make up the RHYTHM FUN treadmill's AIR shock reduction & noise reduction system.Less noise & safety make your running quiet & comfortable! Needn't assembled!Just take out the box to use it! No matter beginners or seniors! Warranty:Main Frame: 10 years; Parts: 1 year; Motor: 2 Years !
Details:
1. RHYTHM FUN Brand Introduce:
RHYTHM FUN Treadmill is well made by a professional treadmill factory. All the treadmill we have our own design , logo, and patent. we do not like other producers who always deceive the customers and copy other sellers products.
we do business honestly and aim to provide everyone best treadmill quality and best running experience. Just believe the treadmill with 100% reassurance!
2. Super Quality :
Not like other Cheap treadmill, RHYTHM FUN treadmill use high-quality manufacturing materials, energy-saving powerful motors, and humanized treadmill design,Making you "More Running More Young".
Please Believe RHYTHM FUN!
3. RHYTHM FUN New type folding under desk treadmill Super Feature:
A. Smart Sensor Light: Different speed changes bring different Visual Shock,making the sport more exciting & safe !
B. Super Slim Running platform to 3cm---Coin Treadmill.
C. 2-in-1 models treadmill :---Walking & Running treadmill.
D. Ultra Clear&Large LED display, Smart Remote,Smart Workout APP
E. Shock absorption & noise reduction design:
4.Warranty:Main Frame: 10 years; Parts: 1 year; Motor: 2 Years !
5.Specification:
Net Weight:30 kg
Running Belt:42 * 120 cm (17"*47")
Folding Size:143*69*12.5cm(56"*27"*5")
Peak Horsepower: Peak 1.5hp
Peak power: 600W
Walking Speed: 0-4km/h (0-2.5mph)
Jogging Speed:4-6km/h (2.5-3.7mph)
Running Speed:6-8.8km/h (3.7-5.5mph)
Shock absorption : Yes
Remote controller : Yes
Max user weight: 220lbs
LCD window displays: speed, distance, time, calorie
6.Package:
1. User manual x1
2. Installtion Tools x1
3. Silicone oil x2
4. Cusion x 4
RHYTHM FUN treadmill give you [Young] & [Fitness] . just Run !
Package Dimensions: 60.3 x 30.5 x 7.5 inches