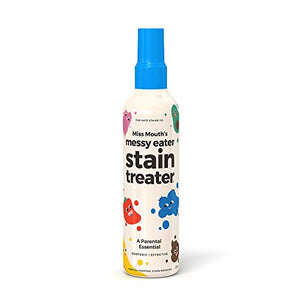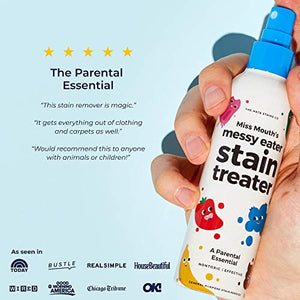 Miss Mouth's Messy Eater Non-Toxic Baby and Kids Stain Remover
Emergency Stain Rescue
Brand: Emergency Stain Rescue
Color: clear
Features:
A PARENTAL ESSENTIAL - A spot cleaning stain remover spray specifically designed to quickly & safely treat the inevitable stains made by the professional mess makers we love and care for.
FAST, POWERFUL & CLEAN - Miss Mouths Messy Eater Stain Treater's super concentrated formula magically removes food and other stains from clothing, bibs, cloth diapers, furniture, carpets, linens, car interiors, sofas and upholstery and many more.
FOR ALL KID-CREATED STAINS. This universal spot remover is remarkably effective on all types of fresh and set-in stains; on food – berries, fruits, juice, baby food, formula, ice-cream, carrots, ketchup and spaghetti sauce. An excellent blood stain remover it also works for other less savory, stubborn and nasty child related stains like spit up and yes 1's and 2's.
SAFER CHOICE CERTIFIED. As Parents we knew we needed effective but with nothing nasty No peroxide, no chlorine, no phosphates or parabens; The 100% biodegradable surfactant and pH neutral formula is tough on stains not on skin, clothes or the environment. Safer Choice Certified.
RECOMMENDED AND REVIEWED. 5 Star reviews from The Today Show, The View, Good Morning America, Real Simple, GQ and thousands of happy and appreciative users.
Binding: Home
Details: Miss Mouths Messy Eater Stain Treater Miss Mouths Messy Eater Stain Treater is a super-concentrated stain remover designed to quickly and safely treat stains when they occur. The professional grade formula uses more biodegradable surfactants than other national brands making a little go a lot further. Made to live where the accidents happen so you can starts working immediately to break up stains. Miss Mouths Messy Eater Stain Treater is safe and effective on all colorfast washables. Made for where the action happens. . Every Stain Is Different Some stains will come out on contact. For others you can activate the stain-fighting power by rubbing in the formula while being careful to protect the texture of the fabric by not scrubbing too hard. If needed you can wait five minutes for the professional grade formula to do its work. Real tough or dry stain stains? You can douse with water and let soak to loosen stain. Then blot and spray formula. You can rinse off. Then place the clothing in the washing machine as you normally would. . Safe on Colorfast Fabrics To ensure your clothes are colorfast, first check their labels. Labels that read "wash separately," "wash in cold water," "hand wash," "do not use detergent," or "turn inside out to launder" may indicate the dyes are not colorfast. To test, soak an inconspicuous corner of the material in a cup of warm water and a teaspoon of detergent for two to three minutes and then blot with a white paper towel. If the colors do not change, run, or come off on the paper towel, you may safely use Miss Mouths Messy Eater Stain Treater. Tips and Tricks for Fighting Stains The longer a stain remains on fabric, the more difficult it will be to remove. Deal with spills as soon as you can by keeping Miss Mouths Messy Eater Stain Treater Bottle or Wipes where the accidents happen. You can douse a spill with cold water and then blot dry.
EAN: 0865169000120
Package Dimensions: 6.1 x 2.1 x 1.0 inches
Miss Mouth's Messy Eater Non-Toxic Baby and Kids Stain Remover for Clothing, Carpet, Fabric, and Upholstery (120ml, 4 oz Spray Bottle)