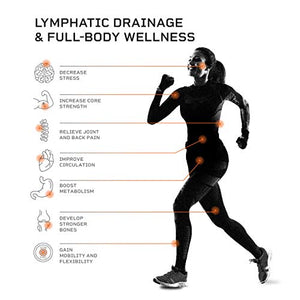 LifePro | Turbo 3D Vibration Plate Exercise Machine
LifePro
Brand: LifePro
Color: BLACK
Features:
FOR HELPFUL, BLISSFUL PAIN RELIEF - Whether you're fighting lower back pain, aching knees, or arthritic joints, stepping on The Turbo vibration plate will give you immediate and noticeable relief. Much like rubbing a bumped shin or shaking an injured finger, the exercise machine stimulates your nerves, blocking out pain, relieving built-up tension and soothing your joints as your brain focuses on motion, not pain.
ALLEVIATE CHRONIC PAIN:- If you live with chronic pain, most likely you've learned to bury it beneath a regular regimen of painkillers. But what if you could fix the underlying issue? The Turbo delivers efficient and gentle Whole Body Vibration (WBV), to help relieve chronic pain, heal old damage, and accelerate recovery from acute injuries.
REGAIN STRENGTH, FLEXIBILITY & RANGE OF MOTION: Regain muscle tone, strengthen bone density, boost your metabolism and more with the LifePro Turbo. Gentle, therapeutic vibrations wake up muscles throughout your body, improving circulation and triggering myofascial release. This, in turn, enhances your body's built-in ability to regenerate cells and repair itself - increasing motion, flexibility and comfort from the very first session.
DOUBLE THE MOTORS, TRIPLE THE MOTION: An upgraded version of our standard Waver model, we built our Turbo with 2 robust motors for a 3D range of motion, specifically to provide even greater pain relief with its pulsating motion. Depending on the pain you're experiencing, or your recovery goals, you can choose to use 1, 2 or both in tandem.
LIFETIME GUARANTEE & GUIDANCE: When you purchase one of our whole body vibration machine it comes with a complete system of support, including built-in LIVE support from our 'guiding angels' and free access to a comprehensive library of training videos and tools. Additionally, every platform bearing our name undergoes rigorous scrutiny to make sure it delivers on power and efficacy and a built-in lifetime warranty so you're never left hanging.
Details: ➤ Are you looking to get in great shape but intimated about expensive gyms?
➤ Do you have nagging injuries and health concerns and want to get back to feeling like yourself again?
With LifePro TURBO,
you can get in a fast, effective, low-impact workout from the comfort of your own home!
This machine is quiet, doesn't take up much room, and very easy to store away when you're done.
So, How Does This Whole Body Vibration Plate Work?
The platform creates a repetitive motion using 3D vibration and oscillation that activates all of your muscle fibers.
What does that mean for you? Well, in the amount of time it would take you to drive to the gym, you'll be able to get a workout in that will transform your physique and help you feel great!
What Else Can It Help With?
✅ Faster Metabolism for Rapid Fat Loss
✅ Increase Serotonin and Decrease Cortisol
✅ Improved Overall Circulation
✅ Lower High Blood Pressure
✅ Develop Strength
✅ Better Flexibility and Stability
✅ Increase Bone Density
✅ Relief from Back Pain and Muscle/Joint Aches
✅ Great for people with Osteoporosis and Arthritis
Endless Workout Options!
We set you up for success! It doesn't matter if you're just starting out or in good shape and looking for something different.
This whole body vibrating massager has workout levels from 1-99, Low to High.
We also added into this bundle our mini bands. Build Muscle, Burn Fat, Look and Feel Great!
The TURBO Specifications:
🔴 Size: 30.5 x 17.3 x 5.9 (l/w/h)
🔴 Dual Motor - 3 Vibration Modes
🔴 Max Weight: 330 lbs
🔴 Frequency: 4-15 Hz
🔴 Amp: 0-10 mm
🔴 99 level
🔴 p1-p8 auto program
You're not in this health and wellness journey alone. You have a goal, and we want to help you achieve it!
We'll give you access to our exclusive
members-only group
online, and you can set up a time to chat one-o
EAN: 0842893116907
Package Dimensions: 32.0 x 19.0 x 8.0 inches