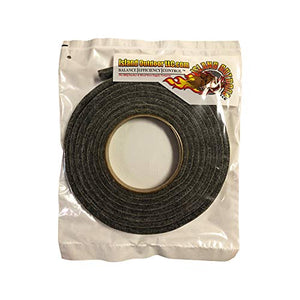 LavaLock Self Stick BBQ Gasket Grey High Temp Smoker Gasket Charcoal Grill Seal - Factory Shorts
LavaLock
Brand: LavaLock
Color: charcoal
Features:
♨️ NO FRILLS - Top Quality, Fraction of the price, Won't Melt & Won't Peel, Guaranteed!
♨️ FACTORY SHORTS - Get Legendary LavaLock Performace for LESS $$$
♨️ EASY TO INSTALL - Simply Stick-on and close the smoker door or lid to self cure
♨️ MULTIPLE SIZES - Select size. These will fit most BBQ Smokers including Weber, BGE /Kamado (check size needed), Oklahoma Joe's, Charbroil offsets, UDS & other popular charcoal smokers. (be sure to select right size)
♨️ HIGH PERFORMANCE / HIGH TEMP - Our gaskets are know for supreme temp resistance and stability. Avaliable in High temp (600F-800F internal) and XTR (1,000F internal)
Details: LavaLock Factory Shorts are your change to get premium quality bbq gaskets, that were cut just a little short for our standard roll size. These are NO FRILLS and bagged new and ready to seal your BBQ, Smoker or charcoal/stick burner door, or cook chamber lid.
Package Dimensions: 3.0 x 3.0 x 0.5 inches