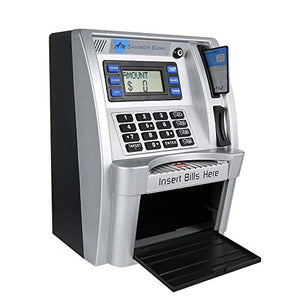 Eyestar | ATM Savings Bank
Eyestar
See why Eyestar ATM Savings Bank is blowing up on TikTok. 
#TikTokMadeMeBuyIt
Features:
Using Realistic Banking Card and PIN Code to Access--Just insert the card and enter 4-digit password,it lights up and makes voice prompt.perfect for Christmas gift or birthday present.
Automatic Coin Recognition--Deposit cash,check balance or make a withdrawal.coins and notes are accepted by feeding them through the slot (roller) and withdrawing through the drawer.
PIN Re-Setting--If you forget your password,just press the RESET button at the back of the ATM box or take out the batteries and restart,It returns to 0000,works with ALL Dollar currency.
Targets Setting--Children could check the display to see how many days or amount is still needed to reach their goals.An interesting way to teach your boys or girls financial saving.
Package Includes:ATM machine,bank card and user manual.Notes can be deposited (or withdrawn),the keypad is used to add (or subtract) the corresponding amount manually to your balance.
Binding: Toy
Publisher: GoodsFederation
Details: Manage your money with this new improved true to life ATM machine! Feature: * Make saving money fun for kids with the Digital ATM Coin Bank Money Machine.Teach children the importance of saving with this pretend Money Box. * This My Personal ATM Money / Coin Bank with Digital Display is the perfect aid for your kids to start learning about saving. * Children can even set saving targets and check the display to see how many days or money is still needed to reach their goals. * The in-built alarm will sound should any sticky hands try to steal the savings from your personal Coin Bank! * The coin slot recognizes the denomination of each coin helping to keep track of account balances. * Notes can also be deposited and the keypad can be used to update the amount on the account. * This Bank also has in-built functions such as time, 24 hour clock, date, alarm, calculator and ATM sounds and tunes for a realistic experience. Manage your money with this true-to-life personal ATM that is only activated with the card provided and personal 4 digit code. The machine accepts and recognizes each coin inserted and also accepts notes by drawing them through the slot in the front of the machine. Teaches children how to save money and track the progress of their savings! Features a real time alarm clock with calendar. Machine lights up and makes real ATM sounds when used! Package include: ATM Savings Bank (Silver/Black), Bank Card to operate ATM and instruction Manual. 3x AA batteries required (not included).
UPC: 647904746964
EAN: 0713653336241
Package Dimensions: 9.8 x 9.1 x 7.0 inches