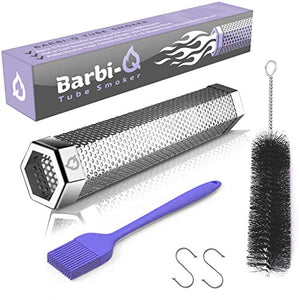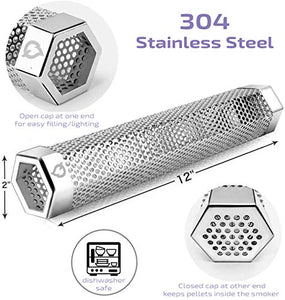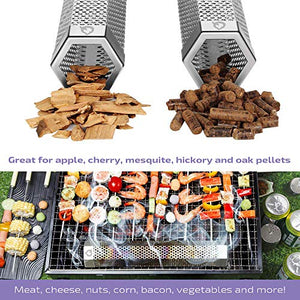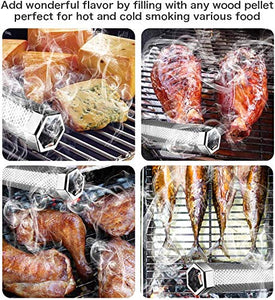 Barbi-Q Pellet Smoker Tube, 12'' Stainless Steel BBQ Smoker Tube for Wood Chips, Cold Hot Smoking for Electric, Gas, Charcoal Grill Smokers, Barbecue Grill Accessories, Ideal for Cheese Fish Pork Beef
Barbi-Q
Brand: Barbi-Q
Features:
✅ DELICIOUS AROMA Smoker Tube is a simple device that enriches your dishes with aromatic smoke. Suitable for hot and cold smoking. Grilled meat and fish taste even better with the aroma of smouldering wood. Pick your flavor: cherry, hickory, mesquite, apple, pecan flavored pellets or chips. You may also experiment with the recipe and mix the flavors.
✅ EASY and ACCESSIBLE Our Smoke Tubes are foolproof and easy to use. Fill the tube with wood pellets, set them on fire and let burn for 3-5 minutes. Then blow out the flame and place the tube on the grill. Large Smoke Tube (12" long) holds enough pellets for 5 hours of smoking.
✅ SUITS ALL GRILLS AND ALL DISHES Electric, gas, coal, pellet grills. Traeger or Weber Grill, a Masterbuilt, Yoder or Big Green Egg Smoke. Pork, ribs, jerky, hot dogs, sausage, chicken, cheese, lamb, fish, nuts, fruits, corn, bacon and so on. Your favorite food becomes more appetizing with the smoke aroma.
✅ IMPROVED DESIGN. STAINLESS STEEL Hexagonal shape combines the perks of the round and square shape boxes. The smoker does not roll over and the hexagonal shape allows air to pass through freely, smoking your food evenly. The tube is made of high quality 304 stainless steel, which is anti-corrosion and heat resistant.
✅ SET and GUARANTEES Cleaning brush, silicone brush and S-hooks. Complete set comes in a bright box and makes a great gift to a barbecue pro as well as to an amateur. Our smoker tube is an essential accessory for your great bbq experience.If you have any troubles with your smoker, contact us to receive a full refund and a new smoker for free.
Details: WHY Barbi-Q SMOKER TUBE? If you have ever experienced awkward that when your friends come to your home but you have no special food treat them; If you are tired of normal taste BBQ food and want to try smoking taste; If you feel headache to buy an expensive smoker machine... WHY CHOOSE BARBI-Q PELLET SMOKER TUBE✅12-inch smoker tube with larger capacity allows 5 hours of billowing smoke.✅The pellet smoker tube with perforated steel allows full passage of the smoke. ✅The pellet smoker tube can be used for both cold smoking and hot smoking. ✅The smoker tube can be used with variety of wood pellets to add various smoking flavors. ✅The pellet smoker tube works on any electric, gas, charcoal grill or smoker. ✅The pellet smoker tube will easily turn your regular grill into a smoker. ✅The pellet smoker tube is made of heat resistant 304 stainless steel. ✅The pellet smoker tube is lightweight, portable and easy to maintain. ✅The hexagon shape keeps the smoker tube in place on your grill grates. PACKING LIST: 1 Pellet smoker tube 1 Cleaning Tube brush 2 S shape hooks 1 Silicone basting brush USE RANGE: Hot smoke for chicken, breasts, wings, bacon, pork chops, grip, salt, burger, steaks etc. Cold smoke for cheese, fish, egg, chocolate, pork butts, ribs/brisket etc. Barbi-Q tube smoker is an ideal gift for the Christmas, Thanksgiving, New year. It is a must buy for every family. With these combination tools, you could also be a big chef in your family! Enjoy BBQ time with your family! You can make delicious food by your hands. We want you to be completely satisfied with your purchase. If you are in any way dissatisfied with the item ordered, we'll exchange it or make full refund. You won't go wrong with it! What are you waiting for? Add it to your cart and get one.
Package Dimensions: 12.3 x 2.3 x 2.3 inches